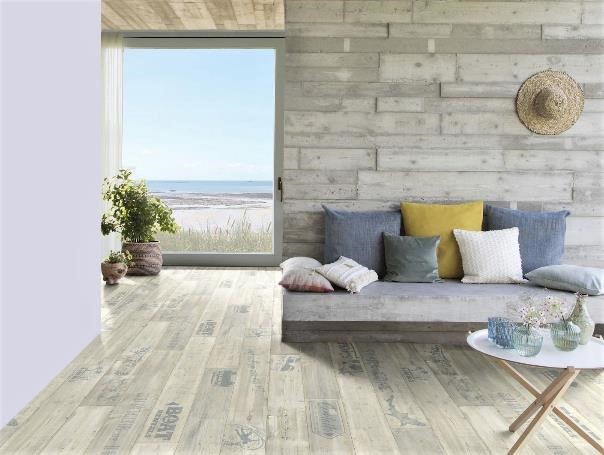 PVC floor in wood look
Are you looking for a floor covering that has the look and feel of real parquet but is still available at an affordable price? Then wood-look PVC flooring from Alpha-Tex is the perfect solution. PVC flooring has additional advantages to offer. We present the most beautiful types of wood-look PVC flooring below.
PVC flooring in its most beautiful form - wood look
The PVC floor in wood look is versatile and available in a large selection in numerous different patterns and looks in the online shop of alpha-tex.com. You can furnish practically all living areas with PVC flooring. From the living room to the hallway to guest rooms and children's rooms. The decors in the various wood looks convey elegance and warmth or furnishing trends such as country house style, retro, vintage or rustic, depending on the selection. The advantages of PVC flooring in wood look dark or PVC flooring in wood look light are not only the wonderful wood-like design: With PVC flooring in wood look, you get an easy-to-clean floor covering in your home. The manufacturing process of polyvinyl chloride, or PVC for short, has been significantly developed and modernised in recent years. That is why this floor covering is one of the best-selling resilient floor coverings today. In addition to its incredibly low price, its high resilience is the basis for its success.
High-quality PVC in first-class wood look at alpha-tex.com
At Alpha-Tex, you can expect an excellent and exquisite selection of wood-look PVC floor coverings. Depending on the colouring, decor and design, they develop a very special effect in combination with the size of the room, the layout of the room and the interior. No matter which vinyl floor you choose: The wood look is deceptively real.
PVC floor in light wood look
The PVC floor in wood look white or light is one of the most popular floor coverings for the living area. Like every wood decor, it has its own charisma. For example, the design floor in light oak. Light colours look noble and timeless at the same time. The PVC floor in light wood look is often characterised by clear grains. PVC wood flooring in ash look is particularly modern. Ash décor impresses with its varied grain patterns and clearly visible annual rings. PVC flooring in wood look white gives rooms a greater impact, makes living spaces brighter and larger and looks particularly elegant and classy. This flooring goes wonderfully with modern furnishing styles. Incidentally, the grey wood-look PVC floor also belongs to this category. For individual room design, the vinyl floor in light wood decor is equally suitable for living rooms as well as for kitchens and bathrooms. According to the surface and the stress class, PVC flooring can also be installed in shops, offices and even staircases. The light wood-look PVC floor creates a homely atmosphere and can also be used in darker rooms.
PVC in plank look
Plank-look polyvinyl chloride floorings convey a feeling of naturalness and spaciousness. When laid correctly, they make a short room seem significantly longer. The plank look is created by wide and long continuous wooden planks, as known from pirate ships of the 17th century. PVC flooring in plank look goes well with rustic and natural furnishing styles. Natural oak or beech are particularly suitable decors for the plank look.
PVC in classic wood look
The classic wood look of PVC floor coverings is characterised by wood decors such as natural oak, beech and ash. The classic wood look is available in the variants PVC floor in wood look dark as well as PVC floor in wood look light. Strong grains and a natural look characterise the classic wood design. It makes you feel welcome and at home. A warmth and cosiness emanates from the classic wood design that can hardly be matched by any other design, not even a carpet. The classic wood look can not only be used in all rooms, but is also suitable for almost all furnishing styles.
PVC in modern wood look
PVC flooring in wood look grey and PVC flooring in wood look dark are often referred to as modern decors. However, PVC flooring can do much more than just play in the colour variations. Thanks to modern printing technology, lifelike and unusual motifs or designs can be easily printed onto the vinyl floor and covered with a wear layer. For example, PVC flooring in a light wood look with a heavily grained decor. A modern PVC floor in wood look has many faces. Heavily patterned PVC flooring is particularly popular. Please feel free to use our sample service to find the right floor design for your home. The modern PVC floor in wood look can accentuate the furniture and accessories in the room with a discreet design or set accents and effects with a strong design.
PVC in herringbone pattern
Thanks to its deceptively real design, wood-look PVC flooring is very much in vogue and is one of the favourite design tools of architects and interior designers. Whether PVC flooring in wood look white or PVC flooring in wood look dark: The vinyl floors are increasingly available not only in plank or tile dimensions but also in more unusual design patterns and new installation designs. Vinyl floors in the trendy herringbone look are a visual highlight. Because the manufacturing process is becoming increasingly fancy and the printing techniques even more sophisticated, this PVC flooring is hardly inferior to the traditional classic herringbone parquet. On the contrary: with its deceptively real parquet look and the advantages of the material, the PVC floor in wood look in herringbone design becomes a high-quality alternative to parquet.
However, traditional flooring requires more effort in terms of maintenance. The wood-look PVC floor, on the other hand, can impress with the easy-care nature of the wear layer, which is extremely hard-wearing, water-resistant and easy to clean. External influences such as air and room humidity have hardly any effect on the floor covering.


PVC in special designs
The possibilities of wood-look PVC flooring are far from exhausted. A grey wood-look PVC floor or a wood-look PVC floor with a different base colour is also suitable for the Vintage style of living thanks to a special print. The Vintage style is characterised by floor coverings that show visible signs of use and wear. These are high-quality designs that are created with great attention to detail and at the same time show authentic signs of wear.
The affordable alternative to real wood parquet flooring
A wood-look PVC floor looks deceptively similar to a parquet floor. At the same time, it offers many other advantages that real parquet flooring cannot match. Here are some of the most important advantages that distinguish a wood-look PVC floor:
unlimited variety of designs
individual floor design
identical decors in different installation heights
better impact sound properties than laminate and parquet flooring
durable and hard-wearing
recyclable
Resistant to moisture
Below we explain some of the special advantages of PVC flooring in wood look in more detail.
Wood look for every area
While some floor coverings cannot be installed in certain areas due to their special materials, PVC flooring is suitable for almost any use. It is not without reason that wood-look PVC flooring has become an indispensable part of everyday life. This is where PVC flooring by the metre develops all its advantages, such as durability, hard-wearing properties and easy care and cleaning. With a PVC floor in dark wood look or a PVC floor in white wood look, you can design any room in a modern and individual way.
Wood-look PVC flooring in the kitchen
Whether wood-look PVC flooring in white or wood-look PVC flooring in grey: PVC flooring shines with its warm, soft and easy-care surface. Especially in the heavily used kitchen, the floor covering made of polyvinyl chloride convinces with its durability and robustness. The latest generation of vinyl planks are impact-resistant, completely water-repellent and particularly soft on the feet thanks to the integrated sound insulation under the planks. The tranquillity and soft feel are enhanced by the integrated base material of the vinyl flooring. It also functions as impact sound insulation. This saves additional material for impact sound insulation as well as adhesive, which improves the quality of the indoor air. The modern vinyl plank is easy to replace if damaged due to the simple installation technique, as long as it is laid floating or fixed. When choosing the right kitchen floor, it is important to take into account its heavy consumption, the need for careful cleaning, resistance to moisture and special impact resistance. A PVC floor in wood look can offer all these properties.
Wood-look PVC flooring grey for commercial use
Non-slip flooring with high resilience and impact resistance is desired in commercial spaces. Here, where the stresses and strains are of a completely different nature than in living spaces, the PVC floor in wood look dark or grey can score points. Added to this is the favourable price and the ease of installation. Use classes from 31 upwards are suitable for commercial premises.
Quick and easy installation
The installation of PVC flooring is simple. For this reason, this type of flooring is perfectly suited for hobby craftsmen and laymen. You can install the wood-look PVC floor yourself quickly and inexpensively. The materials needed for this are already available in most households: You need a folding ruler, a cutter knife or a carpet knife with a trapezoidal blade and a ruler or a wallpapering or steel rail. In addition, a pencil, a notched trowel if necessary to spread the adhesive or double-sided adhesive tape. There are two different methods for laying wood-look PVC flooring.
Gluing the wood-look PVC floor white
Whether the gluing, fixing or floating installation of the wood-look PVC floor is suitable depends not least on the size of the room. In rooms up to a maximum size of 20 m², fixing is the best solution. If the rooms are larger, full-surface gluing or floating installation of the floor covering is more suitable. This ensures that the vinyl floor does not ripple or slip after installation. When gluing, you should bear in mind that it is more difficult to remove the flooring later. A suitable method for removing the flooring is to cut it up.
However, it is often sufficient to lay the PVC floor as a floating floor and only glue the edge areas or transitions on the floor.
Fixing PVC floor coverings
Whether plank or wide plank: You can fix a PVC floor in wood look white or another colour direction to the floor with the help of double-sided adhesive tape. This way, the flooring does not slip and can be removed quickly and easily later. For example, if you want to install another wood-look PVC floor.
The "floating" installation of the PVC floor in wood look grey
The PVC floor in dark wood look and other colour variants can also be installed without gluing and fixing. To do this, lay the PVC flooring "floating" or "floating" in the room. However, the floating method is more suitable for very small rooms. Also, the degree of stress must not be very high here. The very flexible PVC floor in wood-look light can easily create waves or curl up at the corners and edges if it is not fixed on larger surfaces. This is not only very unaesthetic, but can also quickly lead to tripping.
Easy cleaning and maintenance of wood-look PVC flooring
A great advantage of PVC wood flooring is that it is easy to clean. In addition, this flooring is absolutely robust and easy to care for. This results in another property: PVC floorings are very hygienic. This means that these floorings are not only suitable for every area, but also especially for those with high demands on cleanliness. For example, in households with allergy sufferers. Cleaning should be done at intervals of a few days, at least once a week. Loose dirt and dust is wiped away. A dry mop, a hoover or a broom is sufficient for this cleaning. In addition, the floor should be wiped regularly with a damp cloth. A mild cleaning agent is best suited for this. For more thorough cleaning and removing heavier soiling, vinegar is a good remedy. Vinegar removes stubborn stains without attacking the floor. One cup of vinegar for one bucket of water is quite sufficient.
Need help buying online?
We offer a wide range of PVC flooring in a variety of designs. Our friendly and competent staff will be happy to help you order your desired PVC flooring online; simply contact us by email, by phone or via our contact form. We will be happy to help you.
Stay up to date - Subscribe to our newsletter
Subscribe now to our regular newsletter. We will be the first to inform you about new articles and offers via our newsletter. You can unsubscribe from the newsletter at any time via a link in the e-mail or on our website.
Follow us on Facebook
You can also find news and promotions on our Facebook page. Become a member of our community.