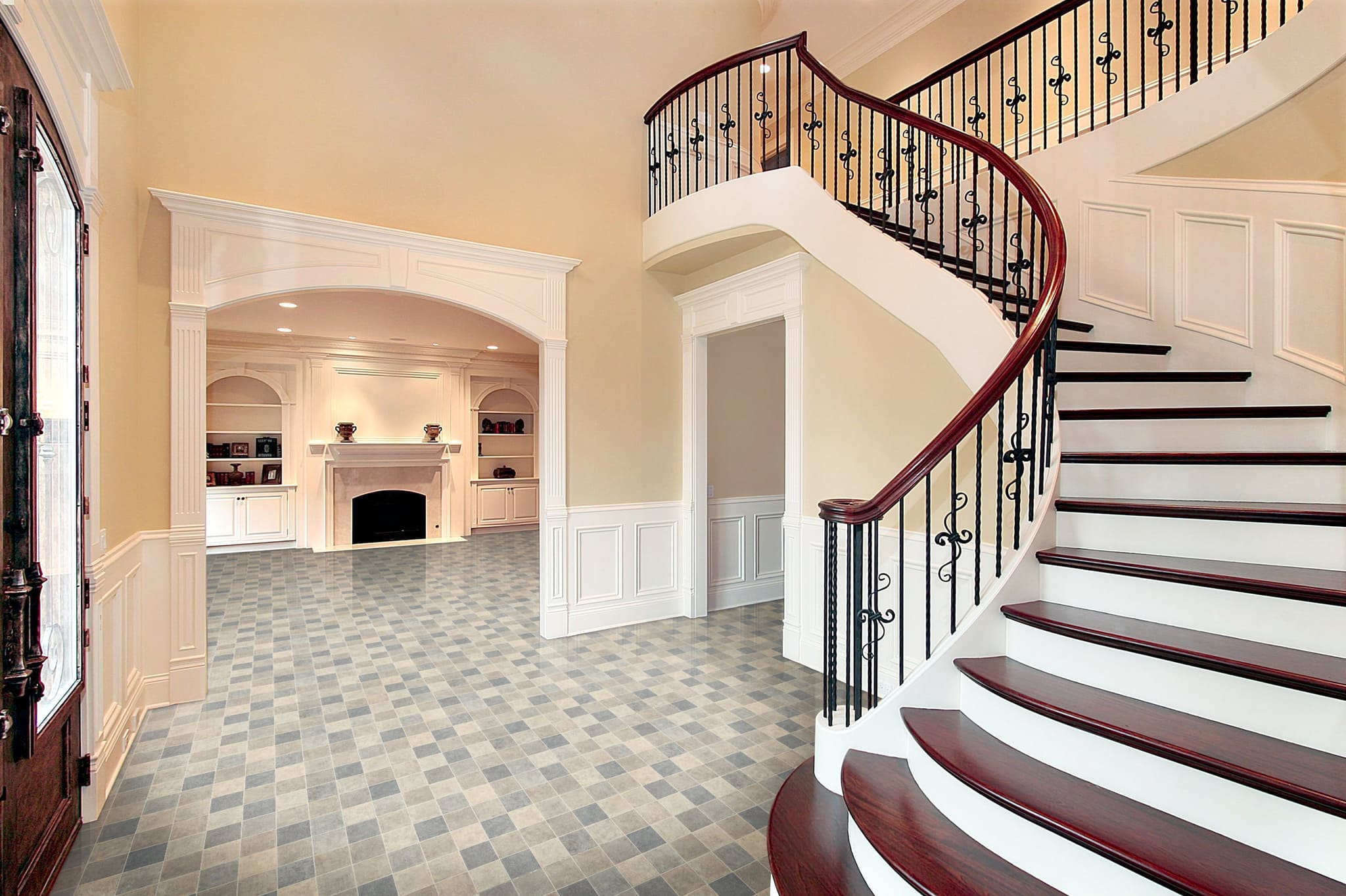 PVC floor in tile look
Are you looking for a floor covering that looks just like a tiled floor? Then tile-look PVC flooring from Alpha-Tex is the perfect solution. PVC flooring has additional advantages to offer. We present the most beautiful types of tile-look PVC flooring below.
PVC floor in tile look
Are you building or renovating and need to decide on a floor covering? Are you looking for a foot-warm, quiet and easy-care alternative to tiles? In our online shop you will find a large selection of high-quality PVC flooring in tile look. Among others, we offer the following variants:
PVC floor in tile look white
PVC floor in tile look grey
PVC floor in tile-look light
PVC floor in tile look black
In addition to our offers, you will receive valuable tips on buying and laying PVC floor coverings. You are welcome to use our sample service to help you make your choice.
Give cold tiles the cold shoulder with modern PVC flooring in tile look!
Whether tile decor or wood look, retro pattern or modern design floor: PVC floor coverings are suitable for every living area. The material with the high-quality textile backing is hard-wearing, easy to clean and ideal for allergy sufferers.
If you opt for a PVC floor in tile look, you enjoy another decisive advantage: the coverings look deceptively similar to natural stone, but in contrast to it, they are pleasantly warm underfoot. Of course, they are also compatible with your underfloor heating.
PVC flooring in tile look - the alternative to stone tiles buy online now at Alpha-Tex!
As an alternative to stone tiles, PVC flooring in a noble tile décor is becoming increasingly popular. At Alpha-Tex, it is available by the metre in proven quality. So save yourself the stressful trip to the DIY store! Buy now from your online specialist retailer at fair shipping costs and benefit from our large selection of different colours and decors!



White tile-look PVC floor
A white floor brightens up rooms and conveys a feeling of cleanliness and freshness. Our attractively arranged "stone tiles" made of polyvinyl chloride embellish bathrooms or kitchens, but also look good in the hallway or other living areas.



PVC floor in tile look grey
Whether light grey, dark grey or anthracite - grey tiles simply look classy. How about, for example, a vinyl floor in brick look or in the form of square, graphite grey tiles with an attractive colour gradient? Upgrade your living space with grey tile-look PVC flooring from Alpha-Tex!



PVC floor in light tile look
Light does not necessarily have to be white. PVC flooring in the form of vintage tiles also has style and creates a friendly atmosphere. Also take a look at our tasteful design floor in warm tile colours as well as the PVC floor in brilliant tile look.



Black tile-look PVC floor
Black is the basic colour of our PVC flooring in matt tile mix, and Alpha-Tex also offers the variant with interlocking tiles in black. Both look elegant and deceptively similar to real stone flooring. Another design floor in this category is a floor covering in a black and white chequerboard pattern.



Sample service
Customers often find it difficult to imagine a material from the photos in the online shop alone. Before you make your purchase decision, we will therefore be happy to send you a sample (approx. A4 size) of the desired floor covering by post. In this way, you can immediately convince yourself of the pleasant feel of our vinyl floors.







What you should look out for when buying
Floor coverings made of polyvinyl chloride are divided into different use classes, depending on the area of application. The higher the usage class, the more hard-wearing the wear layer and the more durable the floor. If in doubt, you should opt for the higher class.

The installation height of the chosen floor covering also plays an important role. With PVC, it is usually between 2 and 5.5 mm (for comparison: a laminate floor can easily be twice as high). Make sure that your choice is compatible with the spatial conditions!



Tips for installing PVC flooring
You can install your tile-look PVC floor yourself in just a few easy steps. You can also find installation accessories such as adhesive tape, edge tape or masking film in the Alpha-Tex online shop.

Before gluing PVC flooring, check the subfloor and carefully level out any unevenness. Old coverings such as carpeting or laminate as well as adhesive residues must be removed. If you are installing PVC flooring in damp rooms, please make sure that the walls are sealed.





Do you need help with your online purchase?
Do you need help with your online purchase? Do you have questions about PVC flooring in tile look, shipping costs or delivery time? Would you like advice on the decors? Call us, send us an e-mail or use the contact form on the website! Our friendly, competent staff are always happy to help.



Stay up to date with our newsletter
You never want to miss the latest products and offers from Alpha-Tex? Subscribe to our newsletter! It is published regularly and keeps you up to date on everything important.